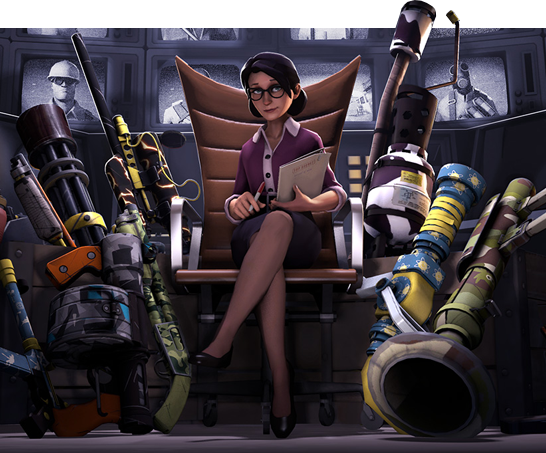 There are new maps available to play on our public servers. We also have put up a new server for just new maps:

104.153.108.129:27015

Three featured community maps: Borneo, Snowplow and Suijin
New Control Point map: Powerhouse
It's that time again!


The 2015 Dodgeball Tournament is in the planning stages, and if my calculations are correct, this will be the
5TH ANNUAL CSn DODGEBALL TOURNAMENT!

EDIT: We've opened registration, so the tournament moves onwards! Look to this thread from here on out:
viewtopic.php?f=37&t=7068

We want YOUR ideas here!

Mumble Meeting: open to all, come if you have opinions; we're gonna hash this all out. Saturday 5/9, 2pm EST.

We're looking at the beginning to middle of July for the date (it would be a Saturday); let either Someone Special or myself (Flufffage/Birdie) know if you have conflicts with any specific date around then.

Contact Someone Special if you would like to donate for the prize pool, or send him a trade offer here: https://steamcommunity.com/tradeoffer/n ... n=cjZOSXEd

Meanwhile, lets use this thread for ideas! We've already got some really interesting ideas regarding things such as team composition (so don't go forming your teams just yet!), ...
Read More &raquo
Hello Gamers!

Slaybox 2 now features pro and custom maps frequently played on in comp TF2 and TF2 lobby.

New maps include:
cp_granary_pro
cp_metalworks_rc5
cp_sunshine_rc5
koth_ashville_rc1
koth_ramjam_b9
koth_ultiduo_r_b7
koth_vanguard_b7
koth_viaduct_pro5
pl_borneo_rc4
pl_swiftwater_ugc
pl_barnblitz_pro4

Join us in SB2 for a new experience!





Want a map on this server? Suggest it here!


Date: March 14th, 2015 at approximately 6:00 Central Standard Time

Signups are not required, however please post that you are attending and it will be first come first play.

Location is Slaybox 2: 162.248.92.95:27015, maps played will be pl_badwater and community choice, please post suggestions on the map.

This is officially AvC #6
The servers have been moved to a new provider in Chicago, here is a list of the new ip addresses:


Slaybox 1 74.91.115.121:27015
Slaybox 2 162.248.92.95:27015
Funbox 2 104.153.105.224:27015

You do not need to re-favorite a server that has changed because this was done automatically by valve.

Christmas time is drawing nearer, which means time to spread Christmas cheer a la Secret Santa!

Please post below if you would like to participate, if interested in physical gifts also indicate that and PM me your address.

I will send out matchings on December 6th, so you have until December 5th to sign up.

Code of Conduct:
-Spend at minimal $5/10, the maximum is whatever you want it to be
-NO SPOILERS, DO NOT RUIN SECRETS
-Send out gifts before January 1st
-Please have some items on your wishlist
-Any trouble feel free to contact me on steam or the forums
-Addressed will only be shared with whoever is your Santa

Happy Holidays!

(No comments on how its not even Thanksgiving yet please)

Participating:

Fluffage


SnakeShesh


Harri


Doctor Galaxy


NicktheCanadianCore


Megamoose*


Rhymenoceros


Zuul


Fingerman*


Balubish


Spatankiller117*


LegendarySurgeon*


Sanic-x


SomeoneSpecial


2014 Critsandvich Halloween Loadout Contest


Happy Halloween!This year we are going to try something new, and have a "costume" contest! Break out your creative and come up with some ideas. From 2spoopy to 2cute, pick a category and get started!



Rules:

You may enter two (2) of the categories


In order to participate, you must have a forum account on critsandvich.com (dont worry its free)


Please remember to deactivate any cosmetic changing mods before entering this contest.


Entries must be posted no later then Wednesday October 29th at 23:59 EST. Winners will be announced on Halloween, October 31st.

To enter:



On the contest thread, you must embed a screenshot of your loadout screen from TF2.


Clearly state your name and which entry and category; i.e. "Fluff Entry #1- Trash"


Name your loadout and give it a description (max 100 words), but this is purely optional (except for Themed category)
Scoring:
Each judge will rate each loadout out of 10 points


In each category, ...
Read More &raquo



It is that time of the year again. To get ready for Scream Fortress 2014, we will be hosting a Halloween maps only server.
Visit it at: 69.175.33.148:27015

Some maps have been configured to force spawn bosses, but admins are also able to spawn them with the following commands:

Spawn Commands
sm_hatman - Spawns a Horseman.
sm_eyeboss - Spawns a Monoculus.
sm_eyeboss_red - Spawns a red variant of the Monoculus.
sm_eyeboss_blue - Spawns a blue variant of the Monoculus.
sm_merasmus - Spawns Merasmus. (THE ALMIGHTY)
sm_skelegreen - Spawns a green variant of a Skeleton.
sm_skelered - Spawns a red variant of a Skeleton.
sm_skeleblue - Spawns a blue variant of a Skeleton.
sm_skeleking - Spawns The Skeleton King. (THE ALMIGHTY BONES)

Parameters in order: <scale> <glow ...
Read More &raquo

Here is a list of the contest winners, check for your id under the STEAM/U:ID. To look this number up, refer to the stats homepage.






Unusual Glengarry Bonnet (Dead Presidents)

(

Greed

) STEAM_0:0:20213493 [U:1:40426986]



Unusual Sober Stuntman (Time Warp)

(

Black

) STEAM_0:1:42106937 [U:1:84213875]



Unusual Doctor's Sack (Roboactive)

STEAM_0:0:4304281 [U:1:8608562]



Berliner's Bucket Helm

STEAM_0:0:47705637 [U:1:95411274]



Bird-Man of Aberdeen

STEAM_0:0:9847140 [U:1:19694280]



Cut Throat Concierge

STEAM_0:1:28733540 [U:1:57467081]



Infernal Orchestrina

STEAM_0:0:18152417 [U:1:36304834]



Milkman

STEAM_0:0:59178888 [U:1:118357776]



Pom-Pommed Provocateur

STEAM_0:1:57114034 [U:1:114228069]



Soldered Sensei

STEAM_0:0:37906956 [U:1:75813912]



Crone's Dome

STEAM_0:1:9059440 [U:1:18118881]



Steel Pipes

STEAM_0:0:5121571 [U:1:10243142]



Steel-Toed Stompers

STEAM_0:1:32353531 [U:1:64707063]



Texas Slim's Dome Shine

STEAM_0:0:32428424 [U:1:64856848]



Base Metal Billycock

STEAM_0:1:9828177 [U:1:19656355]



Bonk Boy

STEAM_0:1:41910563 [U:1:83821127]



Electric Escorter

STEAM_0:1:16465053 [U:1:32930107]



Haunted Exorcizor

STEAM_0:0:31897155 [U:1:63794310]



Flamboyant Flamenco

STEAM_0:1:44148364 [U:1:88296729]



Full Metal Drill Hat

STEAM_0:1:41777104 [U:1:83554209]



Galvanized Gibus

STEAM_0:0:17718219 [U:1:35436438]



Googly Gazer

STEAM_0:0:37770747 [U:1:75541494]



Gridiron Guardian

STEAM_0:1:18161013 [U:1:36322027]



Halogen Head Lamp

STEAM_0:0:39297460 [U:1:78594920]



Hottie's Hoodie

STEAM_0:0:2201239 [U:1:4402478]



L'homme Burglerre

STEAM_0:1:5026838 [U:1:10053677]



Lord Cockswain's Pith Helmet

STEAM_0:1:34951319 [U:1:69902639]



Modest Metal Pile of Scrap

STEAM_0:0:18902947 [U:1:37805894]



Outback Intellectual

STEAM_0:1:24349289 [U:1:48698579]



Platinum Pickelhaube

STEAM_0:1:4577052 [U:1:9154105]



Pocket Medic

STEAM_0:1:33256774 [U:1:66513549]



Pyro's Boron Beanie

STEAM_0:1:37685296 [U:1:75370593]



Rogue's Col Roule

STEAM_0:0:24226693 [U:1:48453386]



Haunted Scarecrow

STEAM_0:0:42754770 [U:1:85509540]



Soldier's Sparkplug

STEAM_0:0:33264102 [U:1:66528204]



Steel Shako

STEAM_0:1:40776228 [U:1:81552457]



Sultan's Ceremonial

STEAM_0:0:18787846 [U:1:37575692]



Tippler's Tricorne

STEAM_0:0:43170741 [U:1:86341482]



Titanium Tyrolean

STEAM_0:0:49724069 [U:1:99448138]



Tough Guy's Toque

STEAM_0:1:27378425 [U:1:54756851]



Wingstick

STEAM_0:0:72848 [U:1:145696]



Ye Oiled Baker Boy

STEAM_0:1:30740665 [U:1:61481331]



The Black Watch

STEAM_0:1:4343263 [U:1:8686527]



Full Metal Drill Hat

STEAM_0:1:20930162 [U:1:41860325]



Googly Gazer

STEAM_0:1:21692255 [U:1:43384511]



Ein

STEAM_0:1:21747586 [U:1:43495173]



The Scotch Saver

STEAM_0:0:5440624 [U:1:10881248]



Base Metal Billycock

STEAM_0:0:26253985 [U:1:52507970]



Scotch Bonnet

STEAM_0:0:29198226 [U:1:58396452]



Greased Lightning

STEAM_0:0:6510418 [U:1:13020836]



The Mutton Mann

STEAM_0:1:18691625 [U:1:37383251]



Grenadier's Softcap

STEAM_0:0:16809372 [U:1:33618744]



The U-clank-a

STEAM_0:0:25173472 [U:1:50346944]



Détective Noir

STEAM_0:0:18152417 [U:1:36304834]



Killstreak Conscientious Objector Kit

STEAM_0:0:47907323 [U:1:95814646]



Dueling Mini-Game

STEAM_0:0:48034007 [U:1:96068014]



2x Professor Speks Strangifier Chemistry Set Series #2

STEAM_0:1:17402909 [U:1:34805819]



1x Strange Bonesaw

STEAM_0:1:26915513 [U:1:53831027]



1x Strange Paintrain

STEAM_0:1:23260186 [U:1:46520373]



2x Strange Jarate

STEAM_0:1:12404467 [U:1:24808935]



1x Strange Huo-Long Heater

STEAM_0:0:611431 [U:1:1222862]



2x Strange Grenade Launcher

STEAM_0:1:26018111 [U:1:52036223]



1x Strange Hitmans Heatmaker

STEAM_0:0:13097581 [U:1:26195162]



To claim your prize, add me to your friends ...
Read More &raquo
The new update has apparently changed unique ids. The newest sourcemod snapshot has successfully fixed all the problems with sourcebans, admin/donator. If you see any other issues, let me know.