Unusual Hats



Unusual Towering Pillar of Hats (Circling Heart)




Unusual Private Eye (Flaming Lantern)




Unusual Sober Stuntman (Time Warp)

(

Black

)



Unusual Universal Translator (Subatomic)
Vintage Hats



Vintage Camera Beard




Vintage Tippler's Tricorne

(

Black

)



Vintage Tyrant's Helm
Normal Hats



Base Metal Billycock




Black Watch




Bootie Time




Borscht Belt




Boxcar Bomber




Brainiac Goggles




Charred Chainmail




Cold Snap Coat




Coldfront Curbstompers




Condor Cap




Double Dog Dare Demo Pants




Dual-Core Devil Doll




Electric Escorter




Familiar Fez




Firewall Helmet




Strange Flashdance Footies




Full Metal Drill Hat




Fur-lined Fighter




Googly Gazer




Haunted Grand Duchess Tiara




Greased Lightning




Grenadier's Softcap




Grizzled Growth




HazMat Headcase




Hound Dog

(

White

)



Hunter Heavy




Insulated Inventor




Strange Insulated Inventor

(

Gold

)



Itsy Bitsy Spyer




King of Scotland Cape




Kringle Collection




Last Breath




Liquor Locker




Lord Cockswain's Pith Helmet




Medi-Mask




Ol' Snaggletooth




Outback Intellectual




Pocket Medic




Polar Pullover




Prussian Pickelhaube




Purity Fist




Pyro's Boron Beanie




Pyromancer's Hood




Quadwrangler




Rebel Rouser




Rogue's Col Roule




Scotch Bonnet




Security Shades




Haunted Sir Hootsalot




Sleeveless in Siberia




Snow Sleeves




Soldier's Sparkplug




Steel Shako




Sultan's Ceremonial




Surgeon's Shako




Surgeon's Side Satchel




Thermal Tracker




Titanium Tyrolean




U-clank-a




Virtual Viewfinder




Wartime Warmth




Wingstick




Winter Woodsman




Ye Oiled Baker Boy




The Air Raider (*1)
Stats have been reset for the contest!
**More items may be added later if I receive donations**
Rules:
You must play in HLstats Slayboxes and obtain a rank
of top 100 or ...
Read More &raquo
This is probably not my best area but I know you guys like challanges outside TF2 aswell and some of you guys are really good designers.

Penndragoon and I have worked just slightly on the corp just to set it up so we have members and all that info at one spot. We still have History and other things to sort out.
So this is how it looks today --> https://robertsspaceindustries.com/orgs/SANDVICH
But beeing a community why not make a comp for it - Designing comp if you may. Winner gets his picture/pictures used on the Corp.
And when it comes to finish day sometime this year we start a voting on all 3 picture examples. Logo, banner and background.
And I dont feel we need to stress this challange. So lets say it finish atleast this year

What we could need.
A cool background picture that sits in the back while scrolling the page.
A banner picture ...
Read More &raquo


it's the second most wonderful time of the year!

Please use this form to provide information on what you want the tournament to be and when you want to have it. http://goo.gl/forms/VEDY4lqn4Q

Also, we are starting to collect donations for the tournament, if you would like to donate anything please contact me or send me a trade request.


More information on the tournament and rules will be posted shortly after information from the above form is collected.

Thank you


I want to wish everyone a Happy April 1st. The fools day config is on SB1.
Everyone send me gifts or something...


Have a happy new year all of you magnificent people!


December 19th 6 PM CST

Slaybox 2: 162.248.92.95:27015

Maps Played:
pl_barnblitz_pro
pl_borneo
badwater_pro
koth_trainsawlaser
pl_rainbowride

Server settings:

As in the past AVC will be Crits enabled, 32 players, alltalk = 0, there will be a server password required for entry. An announcement will be sent out to join the server from the elite group with the password. I look forward to seeing you guys there. Thanks to Bird for organizing this event.

More event info:
viewtopic.php?f=23&t=7250!-->!-->


Hello all it's me again with another contest because who doesn't like to win stuff.

With the revamping and rebooting we are giving the fun servers we have made a group for FunBox 2 aka Fun Haus. But the group is missing something... A group banner/icon! So we are letting the community design icons. So put your creative cap on and start pumping out some ideas.

I will update this thread with rules, dates, prizes, and other things at a later date.

Good luck and have fun!

General Rules:
Nothing inappropriate please
No copy pasta
Entries End September 14th
Winner and Runner Up Announced the following Friday

Prizes:
2 Months Donator Status
Mistaken Movember
Winter Woodsman
Coldfront Curbstompers
Refined Metal
Refined Metal
Low Profile SMG
Civil Servant Medi Gun
Plaid Potshotter SMG
Old Country Revolver
Old Country Revolver

Link to group:
http://steamcommunity.com/groups/CSnFH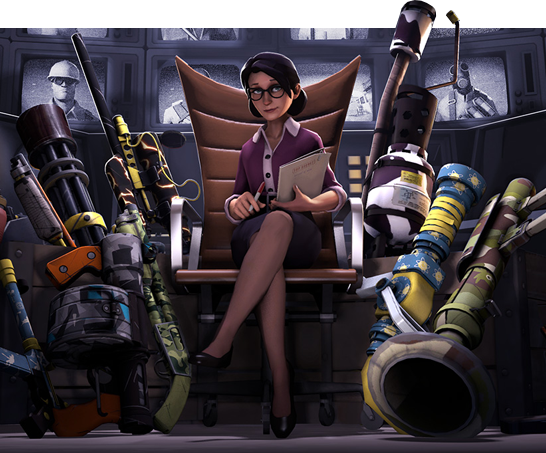 There are new maps available to play on our public servers. We also have put up a new server for just new maps:

104.153.108.129:27015

Three featured community maps: Borneo, Snowplow and Suijin
New Control Point map: Powerhouse
It's that time again!


The 2015 Dodgeball Tournament is in the planning stages, and if my calculations are correct, this will be the
5TH ANNUAL CSn DODGEBALL TOURNAMENT!

EDIT: We've opened registration, so the tournament moves onwards! Look to this thread from here on out:
viewtopic.php?f=37&t=7068

We want YOUR ideas here!

Mumble Meeting: open to all, come if you have opinions; we're gonna hash this all out. Saturday 5/9, 2pm EST.

We're looking at the beginning to middle of July for the date (it would be a Saturday); let either Someone Special or myself (Flufffage/Birdie) know if you have conflicts with any specific date around then.

Contact Someone Special if you would like to donate for the prize pool, or send him a trade offer here: https://steamcommunity.com/tradeoffer/n ... n=cjZOSXEd

Meanwhile, lets use this thread for ideas! We've already got some really interesting ideas regarding things such as team composition (so don't go forming your teams just yet!), ...
Read More &raquo